Share your news with ease
"pr.co is a fantastic tool for engaging
with press, bloggers and customers in the digital age."
Nick Vellacott - Highlight PR
---
Share your news with your audience
Run your PR campaigns, in half the time
How do you manage your content nowadays? You publish on your company blog, and you have a nice presskit on Dropbox.
To send emails, you use either Mailchimp or your own inbox. And where do you keep your contacts? In an Excel file.
When it comes to measuring the results of your efforts, you rely on a few services and add-ons.
Luckily, there's an easier way to do all these activities together.
Take control of your own online presence
If you don't show continuously who you are and what you stand for - somebody else will do it for you.
Manage your online presence like a boss: on pr.co you can create your Newsroom, upload your media assets and publish your news. You can schedule your news releases and share a private version in the meantime.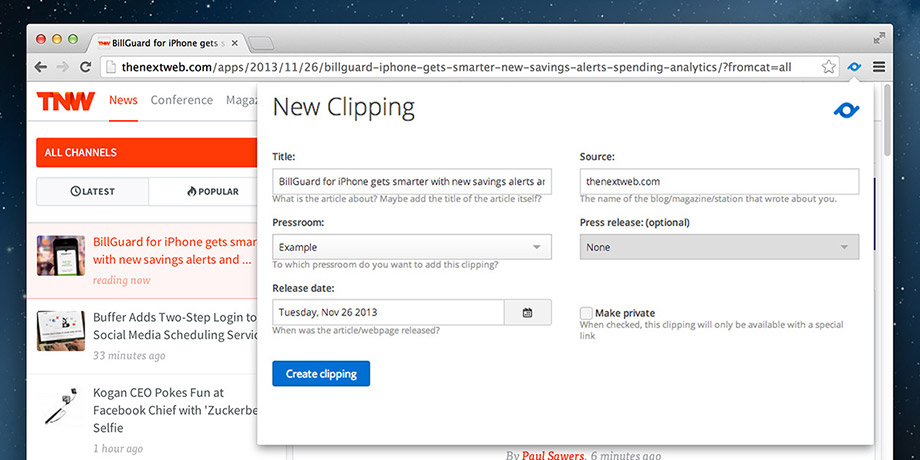 Publish. Share. Engage. Repeat.
Show your contacts exactly what's in it for them: you can craft custom email campaigns for your different audiences. Set up the perfect messages to share on your social media channels. Define the best timing.
When you're done, relax and see the results coming in. You'll get valuable feedback for the next campaign.
Startup
The basics to get started
£ 30.00 $ 50.00 € 40,-
per month
Business
Get the most out of pr.co
£ 75.00 $ 120.00 € 100,-
per month
Share your news with your audience